Day after US Senate primary win, Valentine lists top campaign issues at St. Louis restaurant | Policy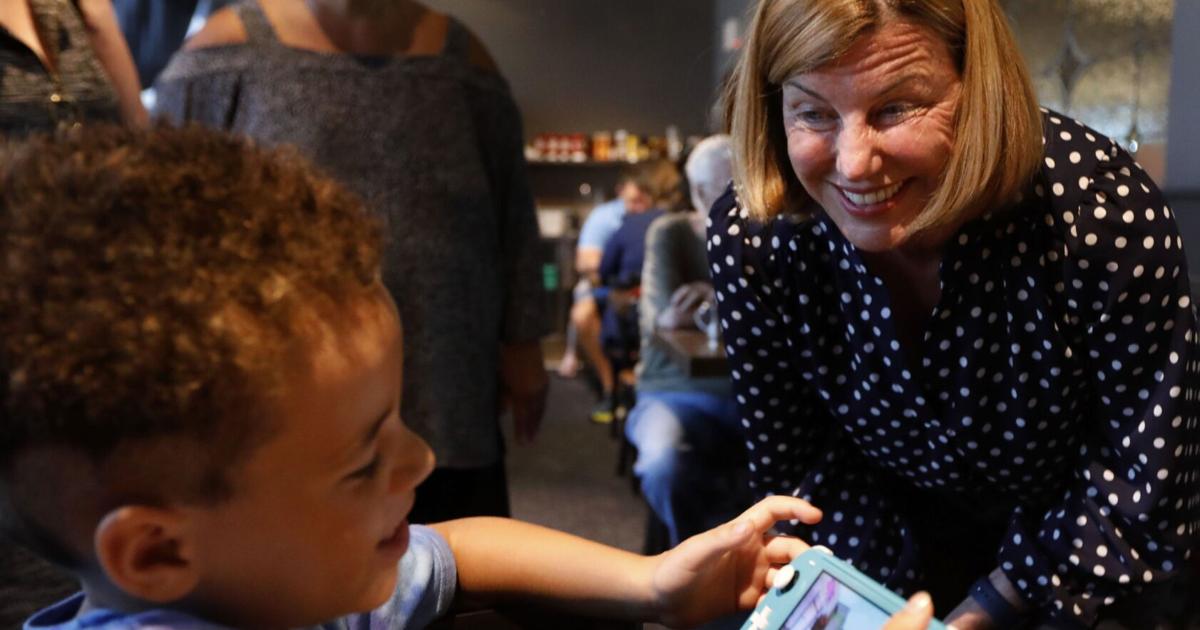 ST. LOUIS — Trudy Busch Valentine mingled with voters at a dinner party in St. Louis on Wednesday morning, just hours after securing the Democratic nomination from Missouri for the U.S. Senate.
She took to the stands, talked about her main issues and reflected on what is sure to be a tough campaign ahead.
Valentine, a retired nurse and heiress to the Busch beer-brewing fortune, won on Tuesday with 43% of the vote, five points ahead of her closest opponent, Marine veteran Lucas Kunce.
She now faces the prospect of flipping the seat held by retiring Republican Roy Blunt in an increasingly solid Republican state. Donald Trump won Missouri by a margin of 15.4 percentage points in 2020.
She will face Republican Missouri Attorney General Eric Schmitt and attorney John Wood, who is running as an independent, in the general election.
Valentine spent the morning after her primary victory meeting with voters and speaking to reporters at Chris' Pancake and Dining in South St. Louis.
In her comments to the media, Valentine focused on why voters should choose her over Schmitt: "Because Eric Schmitt is extreme. Because I'm a Democrat. I am for quality and affordable health care. I am for reducing inflation and the cost of basic needs and I am for women's right to choose. Those are three big things we're going on.
She added that she thinks that today democracy and the right to vote are under threat. She criticized Wood for his anti-abortion stance.
Valentine said she hoped to move past divisive issues in the primary, including drawing criticism from many Democratic party members in July for saying transgender children should wait until they are 18 to undergo change procedures of sex.
"I think we have to come together because we are better as an inclusive country with all of our differences," she said. "Everyone should be respected for their authentic self and that's what I will always support. That's why I'm a nurse.
Valentine said reproductive rights are going to be "a big, big thing in this election."
"I am absolutely for the right to choose and always will be, always have been," she said.
Valentine called his opponent Schmitt "extremist" in his support for Missouri's trigger law that automatically banned abortions in the state after Roe v. Wade by the Supreme Court in June.
Valentine also spent time at Chris', a crowded spot in Lindenwood Park, to meet with constituents.
One of the diners who recognized her was Parthenia Jennings, 94, who sat down with family members on Wednesday morning.
"Will you still be a nurse? asked Jennings, who worked in health care for years at the former Homer G. Phillips Hospital.
"Once a nurse, always a nurse," Valentine replied.
Shortly after the candidate moved on to other tables, Jennings said she saw the election on TV last night and liked that Valentine had a background in nursing, but asked if she had won.
"Oh well," she said, nodding after hearing the result. "I hope she stays a nurse."
Seven-year-old Camden Suber called Valentine to his table as he decided to order French toast. He asked him what politicians do and told him that he planned to become president one day.
"I've always wanted to help the world and I wanted to know if that's what they're doing," he said.
Valentine told her that was what she intended to do.